By Craig Kirsner, MBA, Nationally-Recognized Author, Speaker, Retirement Planner, and President of Stuart Estate Planning Wealth Advisors.
While a minimum wage hike sounds good on the surface, it actually won't be a good thing in reality and here's why:
As of 2017, the number of workers earning minimum wage in the U.S. was 1,824,000.
Most of those minimum wage earners are young: fully 49% are ages 16 to 24, and another 23% are ages 25 to 34. So, 72% of minimum wage earners are under age 34.1
Additionally, fully 53% of minimum wage earners only had a high school degree or less, and another 29% had some college but didn't even finish their 2-year associate\'s degree. So, 82% of minimum wage workers had less than a 2-year college associates degree.2
This proves the facts: most minimum wage earners are younger and undereducated (or still in school and just aren't finished).
So, there are many problems with raising the minimum wage: employers will either have to raise prices or cut costs. One way they have been cutting costs are by using machines, such as the self-ordering machine McDonalds is employing below: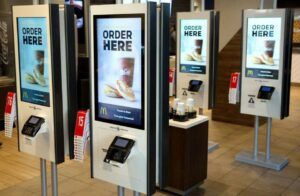 It's a tough world out there, and people must understand that they are now competing globally for jobs. In today's world, you can hire people in India and China to work remotely for you at a much lower hourly cost, which means that people globally will have to work that much harder to get ahead in this new world. Being average just isn't good enough anymore in the global technological age we find ourselves living in today.
Sources used:
https://www.statista.com/statistics/299395/us-minimum-wage-workers-by-education/
https://www.statista.com/statistics/298852/minimum-wage-workers-in-the-us-by-age/
https://www.forbes.com/sites/edrensi/2018/07/11/mcdonalds-says-goodbye-cashiers-hello-kiosks/#51316c526f14
Investment advisory services offered only by duly registered individuals through AE Wealth Management, LLC (AEWM). AEWM and Stuart Estate Planning Wealth Advisors have not affiliated companies. Stuart Estate Planning Wealth Advisors is an independent financial services firm that creates retirement strategies using a variety of investment and insurance products. Neither the firm nor its representatives may give tax or legal advice. Investing involves risk, including the potential loss of principal. No investment strategy can guarantee a profit or protect against loss in periods of declining values. Any references to protection benefits or lifetime income generally refer to fixed insurance products, never securities or investment products. Insurance and annuity product guarantees are backed by the financial strength and claims-paying ability of the issuing insurance company. Any media logos &/or trademarks contained herein are the property of their respective owners & no endorsement by those owners of Craig Kirsner or Stuart Estate Planning Wealth Advisors is stated or implied.  726741